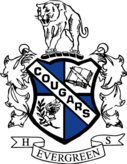 EHS is a phenomenal high school nestled in the mountains of Evergreen, Colorado. Our graduates are enrolled in all of Colorado's state universities and colleges, as well as the most prestigious universities throughout the country.
- Evergreen High School is a National Blue Ribbon School.
- Evergreen High School has been a winner of the John Irwin School of Excellence Award for the past 17 years in a row.
- EHS received the highest academic performance rating of "Excellent" on the School Accountability Report from the Colorado Department of Education.

Show All
Your financial contribution has a significant impact on the students and teachers at Evergreen High School. It keeps our school competitive and ensures that our students are able to engage in rigorous, creative, and innovative educational experiences that prepare them to advance the global community.
If every family contributes $65 for each of their EHS students, we will achieve our goal. 100% of your donation goes to the Evergreen High School Education Foundation.

Our primary goal this year is to help make students' and teachers' educational dreams come true by funding the types of projects that make learning special. Too often, dynamic educators have exciting ideas that would be implemented if not for constraints in their department budgets. The EHS Education Foundation exists to remove those constraints, empowering teachers to reimagine what is possible for them as mentors and for their students as life-long learners. Last year we funded Mimios for every classroom and a brand-new graphic arts computer lab. This year we hope to raise money specifically to support teacher-created ideas such as a weather balloon for the STEM program, books for all Juniors, student-led murals in and around our school, and mental health training for staff. This is only the beginning. We believe we are entering into a renaissance in education after the Covid years. The staff at EHS is energized, invigorated, and ready to take education to the next level.
The Evergreen High School Education Foundation, a volunteer, non-profit organization of EHS families and supporters, is focused on funding budget shortfalls in technology, training, and classroom tools at Evergreen High School. The EHSEF raises funds to support EHS's outstanding educational programs and ensure the academic success of all students.