Evergreen High School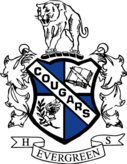 EHS is a phenomenal community high school nestled in the mountains of Evergreen, Colorado. Our graduates are enrolled in all of Colorado's state universities and colleges, as well as the most prestigious universities throughout the country.
• Evergreen High School has been a winner of the John Irwin School of Excellence Award for the past 16 school years.
• EHS received the highest academic performance rating of "Excellent" on the School Accountability Report prepared by the Colorado Department of Education for all 15 years.
• Evergreen High School has been given the National Blue Ribbon School Award in 2007 & 2015, one of the most prestigious education awards in the country.
Show All
The EHSEF raises funds to support Evergreen High School's outstanding educational programs and ensure the academic success of all students.

Past projects include:

Integrated Science Classroom "Smart Curriculum"

LINK Leader Training

Hardware

Software

AP Teacher Training

Full-staff Blended Learning Training

Textbooks

And more…