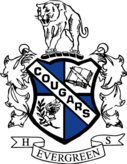 EHS is a phenomenal high school nestled in the mountains of Evergreen, Colorado.
Our graduates are enrolled in all of Colorado's state universities and colleges, as well as the most prestigious universities throughout the country.

- EHS is the recipient of the National Blue Ribbon School Award, one of the most prestigious education awards in the nation distinguishing schools that maintain superior academics.
- We've earned the Colorado John Irwin School of Excellence Award nine times, issued to the top 8% of state high schools, most recently in 2023.
- EHS received the highest academic performance rating of "Excellent" on the School Accountability Report from the Colorado Department of Education.
- In Jeffco, we are the top performing traditional, neighborhood high school (i.e. not a charter or option school).

Show All
Since 2019, your donations have funded:

- Updated technology around the school, including computers, monitors, headsets, and a new video display board for the gymnasium
- Teacher training at the AP Summer Institute for additional AP teaching certifications
- Equipment to support teaching and certifying students to perform EKGs and phlebotomy
- New books and reference materials on college and careers for the Futures Center
- Equipment for a "Makerspace" to enhance EHS STEM - and particularly Technology and Engineering - studies
- Information gathering from the National Association for College Admission Counseling (NACAC) conference so that EHS counselors can help students get into the college of their choice
- A new clay mixing machine for ceramics classes
- Access to the Wall Street Journal for use by students in business and other classes
- A dozen new pH probes to be used in chemistry and other science classes

What will we do next? EHSEF receives a growing number of proposals from EHS teachers and staff to bridge the gap between the school's set annual budget and the needs and interests of students and teachers that arise throughout the year. As our funding efforts have grown, so have the number of projects we've been able to fund. Thank you for helping us help EHS be a great place to go to school.
The Evergreen High School Education Foundation, a volunteer, non-profit organization of EHS families and supporters, is focused on funding budget shortfalls in technology, training, and classroom tools at Evergreen High School. The EHSEF raises funds to support EHS's outstanding educational programs and ensure the academic success of all students.

New this year: Classes will compete to drive donations on InvestInEHS Day. Make sure to tick the box on your donation for the class you'd like to receive credit (yes, you can check more than one box). Please note: your donation is not earmarked for a specific class; the amount will be tallied per class only to highlight fundraising efforts made.