Evergreen High School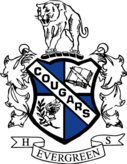 EHS is a phenomenal high school nestled in the mountains of Evergreen, Colorado. Our graduates are enrolled in all of Colorado's state universities and colleges, as well as the most prestigious universities throughout the country.
* Evergreen High School is a National Blue Ribbon School.
* Evergreen High School has been a winner of the John Irwin School of Excellence Award for the past 17 years in a row.
* EHS received the highest academic performance rating of "Excellent" on the School Accountability Report prepared by the Colorado Department of Education for all 15 years.
* Last year, we achieved 100% graduation rate among high school seniors.

Show All
The Evergreen High School Education Foundation, a volunteer, non-profit organization of EHS families and supporters, is focused on funding budget shortfalls in technology, training, and classroom tools at Evergreen High School. The EHSEF raises funds to support EHS's outstanding educational programs and ensure the academic success of all students. To learn more visit www.EHSEF.org.
Your financial contribution has a significant impact on the students and teachers at Evergreen High School. It keeps our school competitive and ensures that our students are able to engage in rigorous, creative, and innovative educational experiences that prepare them to advance the global community. If every family contributes $45 for each of their EHS students, we will achieve our goal. 100% of your donation goes to the Evergreen High School Education Foundation.


Last year, the Foundation donated the money we raised to the school to fund initiatives in training, technology and classroom tools. Initiatives funded include: new blue tooth speakers for the foreign language classrooms, 20 touchscreen Chromebooks for EHS faculty, EHS staff attendance at the CO Tech Summit for educators conference, a new iMac system for the EHS Student TV weekly broadcast and the broadcast journalism curriculum. Additionally, 8 large touch screen 75" Mimio systems with Chrome OS and audio were funded for the library and 7 classroom placements.


This year, we hope to provide funding to place up to 10 additional Mimio systems with Chrome OS and audio in classrooms, a vocabulary program for the English department, additional Chromebooks for teachers, and much more. Teachers at EHS know that they can come to us and request our support to help fund the programs they know will benefit their students and enhance their teaching.